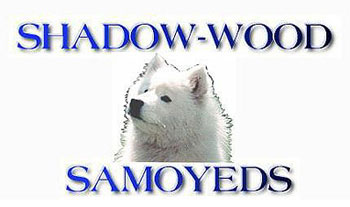 Welcome to our Shadow-Wood Samoyeds home page.
These pages are about our kennel, our dogs, and our observations that have matured over the past 32 years about the breed and about dogs .
During these years we have been involved with the breed in both confirmation and obedience. We have also have been active in specialty, obedience and all-breed clubs. Through our obedience and all-breed work we have learned about many other breeds. We bring these perspectives (and opinions–see Musings)–to our pages.
We also offer our ideas and thoughts to those new to the breed in our Getting Started page, our FAQs page, and in Patti's Puppy Guide and Patti's Show Puppy Guide
For a list of Shadow-Wood pedigrees, click here.
And, if you are interested in buying a puppy when we have a litter (generally no more than one a year–sometimes even less often), please first read Buying a Puppy from Shadow-Wood.
We'll cover our kennel, recent news, our background in dogs, our observations about the Samoyed breed, and about showing in confirmation and obedience (such as a warning of the pitfalls of training for obedience competition with food).
Lastly, to avoid repeating what others have already covered so well, we have given you links to several of the many good Sammy sites. And if you are new to the breed, go to the links at our 'Getting Started' page.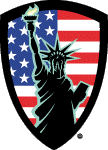 SHADOW-WOOD INTERACTIVE:
E-Mail
What's New
Latest update
December 18, 2005
.11/13/05: added show results and picture of Gandy's BOW win.



to return to the Soccer 'N Sams home page click on:
---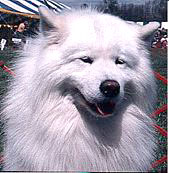 PATTI'S GUIDES FOR THOSE NEW TO THE BREED
Patti's Puppy Guide
Patti's Show Puppy Guide
Patti's Breeder's Notes on the Difference Between Show
Quality and Pet Quality
Canine Terminology Guide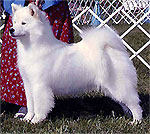 Shadow-Wood's Annie Get Your Gun pedigree (Annie)
Annie's Page
Annie's kids Muffin and
Tank leading Marge Goodenough's team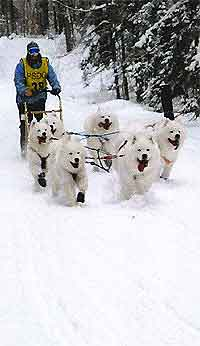 SHADOW-WOOD SAMOYEDS NEWS
-SHADOW-WOOD'S SOLITARY BOOM — TOP SAMMY AGILITY DOG AGAIN-
Shadow-Wood's Solitary Boom MACH (Mitzi), owned and trained to perfection by Kylie Bourke, has earned the top Samoyed in Agility award at both the 2003 and 2005 Samoyed Club of America National Specialties. Way to go, Kylie. She also just completed her MACH title; only the fourth Samoyed to do so. This is the second MACH that Kylie has put on a Sammy bitch – so kudos to both dog and owner/trainer!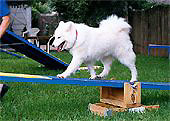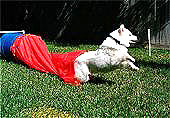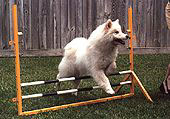 For more, go to Mitzi's page
CONFORMATION SHOW RESULTS –
SHADOW-WOOD'S ANNIE GET YOUR GUN WINS A COUPLE
Annie picked up 4 more points (as of December) going Winners Bitch two days when she accompanied her son, Tank, to a circuit in Alabama, and gaining two more points while accompaning her handler, Cathy Shott, to North Carolina. She now has twelve points including one major.
ANNIE'S COT'N PICK'N DOUBLE SHOT OF SHADOWWOOD IN TOP RANKING
"Tank" remains the #2 Sammy all-breed standings, and #4 in the breed standings according to the Canine Chronicle as of 9/30/05. He has qualified for both the Eukanuba Classic and Westminster shows to be held in 2006. Go Tank! He also picked up another BOB as of Saturday, 11/12/05, added several more BOB and another Group Placement during December. Tank is owned, campaigned and loved by Marge Goodenough, who also owns Panzer, Tank's sire.
SHADOW-WOOD'S GANDOLF THE WHITE TAKES GROUP TWO HIS FIRST SHOW
Gandy, owned by Carol and Gordon Billington, went to his first show this summer and took BOB and a Group Two on his first outing! Go Gandy! On November 12th he took a 3 point major with a Best of Winners (photo). Gandy is from the first litter out of Shadow-woods Lunar Delight (Didi) by Ch. Shaow-wood's Sonofagun (Gunny) and is just beginning his career. He picked up two more points and several reserves in his first venture onto a long circuit in December, so he is well poised to finished his championship in early 2006.
SHADOW-WOOD'S VODKA GIMLET
Gimlet now has six points, including one major and many admirers even though he continues to frustrate his owners and handlers with his lack of interest in dog shows! Gimlet has also been accompaning his brother and Annie to shows with Cathy, and is accumulating those little points one and two at a time. He will soon be searching for that last major.
SHADOW-WOOD'S ANNIE TOOK A SHOT
Sadie accompanied her new co-owners/handlers, Mike and Bridgett Abler, to the Eastern Shore this weekend, picking up her first point on Friday. We are looking forward to watching Bridgett and Sadie having fun together this coming year. Sadie, Gimlit and Tank are all littermates.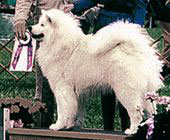 AM/CAN Ch. Shadow-Wood's The Candyman pedigree (Licorice)
Sire of 13 Champions
Progeny Report

POWERED BY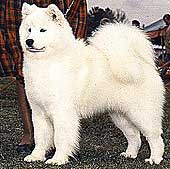 Ch. Shadow-Wood's Sis Boom Bah pedigree (Boom Boom)
Best of Opposite Sex
1991 Samoyed Club of America National Specialty
One of the top 33 producing Samoyed brood bitches in the past 50 years (Camino Books' "Samoyed Champions"} -progeny report-

Thanks for visiting us…

click on image to go to site awards
Web site design and construction by
Stirling Rasmussen
Explore developing a site for your kennel or dog club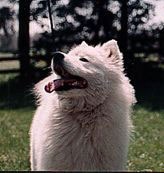 AM/CAN Ch. Shadow-Wood's Smoking Gun pedigree (Puff)

COPYRIGHT 2004, 2005, STIRLING AND PATTI RASMUSSEN-ALL RIGHTS RESERVED

This Samoyed Ring site is owned by
Stirling and Patti Rasmussen
Shadow-Wood Samoyeds
Previous 5 Sites | Previous | Next |
Next 5 Sites | Random Site | List Sites
Want to join the ring? Get the info.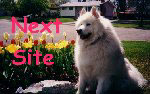 ---

This Working Breeds Web Ring site is owned by
Stirling and Patti Rasmussen
Shadow-Wood Samoyeds
Previous | Next | Random Site | List Sites
Want to join the ring? Get the info.

---

This Nordic Breeds Web Ring site is owned by
Stirling and Patti Rasmussen Shadow-Wood Samoyeds
Previous | Next | Random | List Sites
Want to join the ring? Get the info.

---

This Online Kennels and Breeders site is owned by Stirling and Patti Rasmussen, Shadow-Wood Samoyeds.
Click for the Next Site l Previous Site l Random Site l List Sites
Want to join the ring? Click here for information.
---